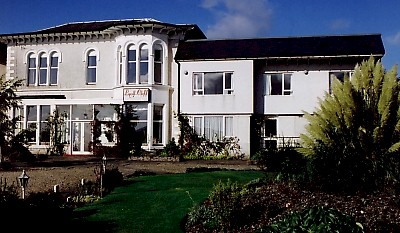 LYALL CLIFF
Self-Catering Accommodation
141 Alexandra Parade, East Bay,
DUNOON, Argyll PA23 8AW.
Tel/Fax: +44 (0)1369-702041
Email: [email protected]
LYALL CLIFF Self-Catering – BOOKING & PAYMENT TERMS:
1 A Deposit of 30% of the total rent payable is required to secure a reservation. This should be sent with a completed booking form.
2 Deposits paid are non-refundable.
3 Provisional bookings (without payment) can be held only for 7 days until a deposit is received.
4 The Balance is due at least 5 weeks (35 days) prior to the arrival date; reservations may be cancelled with loss of the deposit if the balance is not paid on time.
5 Reservations made within 5 weeks of the planned arrival date require full payment at the time of booking.
6 A Security Deposit of £80 is usually required with reservations. This will normally be returned within 7 days of the end of the tenancy unless there is damage to the property or its contents, items missing, the accommodation is left unfit or untidy, or there is disruptive or abusive behaviour. (See our terms & conditions).
7 Written confirmation will be sent within 7 days of receipt of the deposit payment or full payment. Please note that once a reservation is confirmed, customers are liable for the whole cost of the let.
8 Discounted Ferry Tickets can be sent on request for the Gourock-Dunoon crossing. Payment for these must be sent with the balance or full payment.
9 We accept payment by cheque, Visa/Mastercard, or cash. All payments by credit-card are subject to a 3% surcharge. Cheques should be made payable to "Lyall Cliff".
10 In the event of cancellation by the customer, the Security Deposit (if appropriate) will be returned. Should the accommodation be successfully re-let, 70% of the balance paid (not the deposit) will be refunded. Should the property not be re-let, customers are liable for the whole rent.
11 Holiday/cancellation insurance is strongly recommended, and assistance with this is available on request.
12 Reservations cannot be accepted from persons under 21 years old.
13 We regret we cannot accept children under the age of 4, or pets.
14 No VAT is applicable to our tariffs.